Go Diego Go information
Go Diego Go show information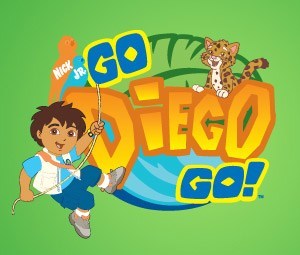 The show features a little boy, Diego Márquez, (voiced by Jake T. Austin), who helps animals in danger, mainly in the rainforest. His cousin is Dora from Dora the Explorer, as revealed in the 2 shows. He has a jaguar companion named "Baby Jaguar" who assists him on adventures. Thomas Sharkey, who is the voice of Baby Jaguar, is also the singing voice of the kangaroo "Austin" in the Backyardigans. Baby Jaguar also appears in Dora the Explorer, but on Go, Diego, Go! he takes a more active role which includes being able to speak. It's unknown whether Diego's parents let him keep Baby Jaguar as a pet or Baby Jaguar adopted Diego. Diego's grandfather has a strawberry farm, and he made his first appearance in "Green Iguana Helps Abuelito Plant a New Farm!". It was unknown whether he was Diego's maternal grandfather or paternal grandfather. Diego is also very ticklish, which is revealed in "Diego Saves Baby River Dolphin".
| | |
| --- | --- |
| Diego is Dora's older cousin; Dora makes several guest appearances in the series, usually without Boots. Diego's 11-year-old sister, Alicia (voiced by child actress Serena Kerrigan), is a computer whiz and also bilingual; she directs the animal rescue calls that come into the center. She also assists Diego in helping the animals they love. Alicia is responsible and kind-hearted, and always kind to her little brother. Diego's parents are described as animal scientists; they appear in several episodes but their names are yet to be given. | |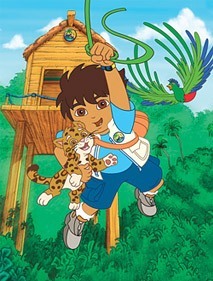 Dora's dad and Diego's dad are brothers. There is also one other older sister, Daisy, which makes Alicia a middle child, who only appears in "The Bobo's Mother's Day!" with Diego stating that she is home from college. This also makes Diego the youngest child.
In most episodes, Diego hears an animal's cry for help at his rainforest Animal Rescue Center. With help from his friends, gadgets, and viewers at home, he sets out to rescue the animal.
Other characters include Click (voiced by Rosie Perez), a camera that locates the animal calling for help; Rescue Pack, a messenger bag Diego wears that can transform into any object; and the Bobo Brothers, two troublesome spider monkeys. The Bobo Brothers can be stopped by shouting "Freeze Bobos!" and Diego often encourages viewers to help him stop them by shouting it. While they might be compared to Swiper from Dora, they don't cause trouble for Diego on purpose, and apologize after doing so.
There are a few recurring animal friends that are normally rescued by Diego in their first appearance but appear later to return the favor and help Diego out, the most common of these is Linda the Llama who has appeared prominently in four episodes and made a cameo appearance in "Three Little Condors". Just like Dora the Explorer, the show teaches preschool-age children the Spanish language. However, the show takes a lesser approach to this and focuses more on the teaching of various animals.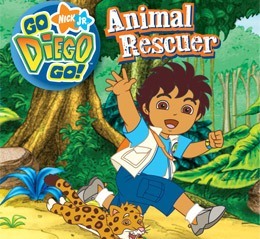 Diego is featured in a one-hour episode titled "The Great Dinosaur Rescue" where he, Alicia, Dora, and Baby Jaguar go back in time to save a dinosaur; Nick Jr. has yet to show this episode. However it was featured on Nick Jr. Australia in August 2007 and has had several re-runs as half hour segments. Two additional one-hour episodes are in production.
Diego also will be starring in a live show called "The Great Jaguar Rescue" where he must save Baby Jaguar, this is also the premise of an episode of the show which aired on January 15, 2007 and was released on DVD on January 16, 2007.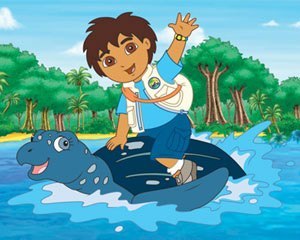 Go, Diego, Go! is a dynamic action/adventure show for preschoolers. Swinging on vines, soaring on a hang glider, or jet skiing down a river, Diego is not the kind of Animal Scientist that spends a lot of time in a lab. He races through the rainforest to embark on high-stakes animal rescue missions - finding tree frogs before they go over a waterfall, saving a sea turtle from a net in the ocean, or helping an anaconda cool off on a hot day. In each story-driven adventure, Diego must overcome perilous obstacles and problems, like the Muddy Mud Slide or the troublesome Bobo Brothers to reach his goal. With the help of his family, his animal friends, his high-tech gadgets and vehicles, and of course the viewer, Diego must leap into action to save the day. Each episode packs plenty of action.
Go, Diego, Go! Play-Along Viewing
Preschoolers have come to expect a more active, participatory viewing experience, and Go, Diego, Go! gives it to them. Pushing the envelope on interactivity. Diego keeps a running dialogue with viewers, actively encouraging them to run, jump, clap, cheer, sing in English and Spanish, and help him on his animal adventures. Preschoolers should feel like they are part of the journey, not simply watching one, as they partner directly with Diego, Alicia, Baby Jaguar, and more to investigate, solve problems, call to animals, or identify their habitats.
Diego's Scientific Approach To The Natural World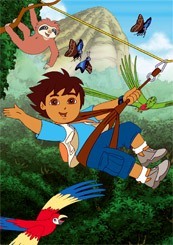 Kids have a natural curiosity about the world and how animals grow, move, eat, breathe, and live within it. That's why Go, Diego, Go! turns them into Animal Scientists. On each adventure, preschoolers learn specific, scientifically accurate facts about the animals that they discover, such as the species' appearance, sound, diet, habitat, categorization (as a mammal, bird, reptile, etc.), and similarities and differences to other living things. Diego and preschools help their animal friends by using scientific skills such as observation, listening, research, investigation, and application of new found knowledge. They also use scientific tools like computers, field journals, and telescopic cameras to compile and review information, to identify and call to animals, or to investigate animal tracks and attributes. Moreover, Diego models a love of nature, a repect for animals and the environment, and a responsibility to be a caring citizen of the planet.
Go, Diego, Go Latin American Animals, Environments, And Culture
Go, Diego, Go! appeals to kids' curiosity about animals by directly engaging them in animal-themed adventures, focusing specifically on species indigenous to Latin America. The show aims to expand preschoolers' familiarity with animals beyond the farmyard, introducing them to new species and their roles in nature. Additionally, Diego takes kids through the rich diversity of Latin American environments - from lush rainforests to snowy mountains, from arid deserts to tropical islands. Diego also explores Latin American culture, including music, folktales, festivals and traditions.
Go, Diego, Go Spanish Language
Research has shown that recall of new vocabulary is improveed when presented in song, and that pairing words with movements helps build comprehension and memory. As such, Go, Diego, Go! teaches Spanish vocabulary in a unique way: by introducing Spanish action verbs in high-stakes situations and interactive songs. By strategically repeating words in song, Go, Diego, Go! increases language acquisition for preschoolers. The viewer sings "corre" as he runs, "brinca" as she hops, and "sube" as he climbs. Go, Diego, Go! NEVER presents Spanish as a language to be decoded by English (like a dictionary), but rather, as part of the active vocabulary of Diego and his friends. After all, Diego's family and friends are bilingual Latinos, easily and naturally switching between English and Spanish.
In each episode of Go, Diego, Go! there are several songs and uses of Spanish vocabulary.
Whenever a carnivorous predator (anacondas) is featured on the show, their diet is not mentioned, unlike when herbivores are shown. Two notable exceptions to this is when an octopus helping Diego is explicitly shown and discussed eating live crabs, the crabs however are not anthropomorphised in the same way that other creatures typically are in the series, and when a baby river dolphin, who had tickled Diego in "Diego Saves Baby River Dolphin, eats the crabs heading toward a waterfall. Whenever a featured animal is threatened by a predator, the prey is described as being "afraid" of the predator.