Welcome to the Scooby-Doo Fun website
Have a lot of fun and download cool Scooby-Doo stuff for free! You can download free Scooby-Doo wallpaper. There are many wallpapers from the movies and also general Scooby-Doo wallpapers. The main size of the Scooby-Doo wallpapers are 1024 x 768.

You will also find Scooby-Doo coloring pages, where you can color Scooby, Shaggy and many of his other friends. You can simply choose the coloring sheet you like and print the Scooby-Doo color page you want. Make your very own Scooby-Doo coloring book with the many Scooby-Doo coloring pages available here.

The website also has a large collection of Scooby-Doo games.
Check out the Scooby-Doo games page for a cool selection of Scooby-Doo games!

You will find many more pages you can explore in the right side menu. Have fun!

Latest Scooby-Doo news
Out now! Scooby-Doo! Mystery Inc. Vol. 3!

The adventures of a talking dog and his four human pals as they try to unravel the strange and haunted history of their hometown. The tone is comedic, but it will never lose the edge that our heroes are in some frightening situations. The stakes are real.
Look at a Clip of Scooby-Doo! Mystery Inc. Vol. 3! »
More Scooby-Doo information
Scooby-Doo is a long-running American animated television series produced for Saturday morning television in several different versions from 1969 to the present.

The original series, Scooby-Doo, Where Are You!, was created for Hanna-Barbera Productions by writers Joe Ruby & Ken Spears and character designer Iwao Takamoto. Hanna-Barbera produced numerous spin-offs and related works until being absorbed in 1997 into Warner Bros., which has handled production since then.

Though the format of the show and the cast (and ages) of characters have varied significantly over the years, the most familiar versions of the show feature a talking dog named Scooby-Doo and four teenagers: Fred "Freddie" Jones, Daphne Blake, Velma Dinkley, and Norville "Shaggy" Rogers.
These five characters (officially collectively known as "Mystery, Inc.", but never referred to as such in the original series) drive around the world in a van called the "Mystery Machine", and solve mysteries typically involving tales of ghosts and other supernatural forces. At the end of each episode, the supernatural forces turn out to have a rational explanation, typically criminal plots involving costumes and special effects intended to frighten or distract. Later versions of Scooby-Doo featured different variations on the show's supernatural theme, and include characters such as Scooby's cousin Scooby-Dum and nephew Scrappy-Doo in addition to or instead of some of the original characters.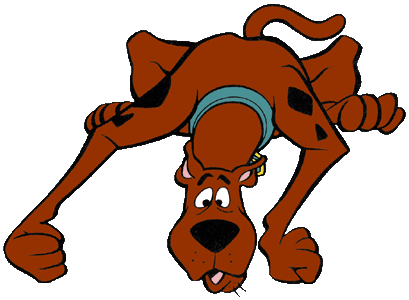 Scooby-Doo was originally broadcast on CBS from 1969 to 1976, when it moved to ABC. ABC aired the show until canceling it in 1986, and presented a spin-off, A Pup Named Scooby-Doo, from 1988 until 1991. A new Scooby-Doo series, What's New, Scooby-Doo?, aired on the WB Network during the Kids' WB programming block from 2002 until 2005. The current Scooby-Doo series, Shaggy & Scooby-Doo Get a Clue!, airs Saturday mornings on The CW network. Repeats of the original series, as well as second-run episodes of What's New, Scooby-Doo?, are broadcast frequently on the Cartoon Network and Boomerang in the United States and other countries.

Read more about Scooby-Doo here >>