Scooby-Doo information
The Scooby influence
Critical reaction and awards
While a successful series during its three separate tenures on Saturday morning, Scooby-Doo won no awards for artistic merit during its original series runs. The series has received only two Emmy nominations in its four-decade history: a 1989 Daytime Emmy nomination for A Pup Named Scooby Doo, and a 2003 Daytime Emmy nomination for What's New, Scooby-Doo's Mindy Cohn in the "Outstanding Performer in an Animated Program" category.

Like many Hanna-Barbera shows, Scooby-Doo was criticized for poor production values and formulaic storytelling. In 2002, Jamie Malanowski of The New York Times commented that "[Scooby-Doo's] mysteries are not very mysterious, and the humor is hardly humorous. As for the animation -- well, the drawings on your refrigerator may give it competition." Even proponents of the series often comment negatively about the formula inherent in most Scooby episodes. Science advocate Carl Sagan, however, favorably compared the formula to that of most television dealing with paranormal themes, and considered that an adult analogue to Scooby-Doo would be a great public service.
Nevertheless, Scooby-Doo has maintained a significant fan base, which has grown steadily since the 1990s due to the show's popularity among both young children and nostalgic adults who grew up with the series. The show's mix of the comedy-adventure and horror genres is often noted as the reason for its widespread success. As Fred Silverman and the Hanna-Barbera staff had planned when they first began producing the series, Scooby-Doo's ghosts, monsters, and spooky locales tend more towards humor than horror, making them easily accessible to younger children. "Overall, [Scooby-Doo is] just not a show that is going to overstimulate kids' emotions and tensions," offered American Center for Children and Media executive director David Kleeman in a 2002 interview. "It creates just enough fun to make it fun without getting them worried or giving them nightmares." Many teenage and young adult audiences enjoy Scooby-Doo because of presumed subversive themes which involve theories of drug use and sexuality.
In recent years, Scooby-Doo has received recognition for its popularity by placing in a number of "top cartoon" or "top cartoon character" polls. The August 3, 2002 issue of TV Guide featured its list of the "50 Greatest Cartoon Characters of All Time", in which Scooby-Doo placed twenty-second[21] Scooby also ranked thirteenth in Animal Planet's list of the "50 Greatest TV Animals". Scooby-Doo, Where Are You! ranked forty-ninth in the UK network Channel 4's 2005 list of the "100 Greatest Cartoons of All Time". For one year from 2004 to 2005, Scooby-Doo held the Guinness World Record for having the most episodes of any animated television series ever produced, a record previously held by and later returned to The Simpsons. Scooby-Doo was published as holding this record in the 2006 edition of the Guinness Book of Records.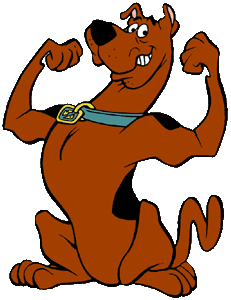 Subsequent television shows and films often make reference to Scooby-Doo, for example Wayne's World and the television series Buffy the Vampire Slayer, in which Buffy and her monster-slaying friends refer to themselves as the "Scooby Gang" or "Scoobies," a knowing reference to Scooby-Doo. (Coincidentally, Sarah Michelle Gellar, who played Buffy, later played Daphne in the live-action movies). Even South Park paid homage to Scooby-Doo in an episode entitled "KoЯn's Groovy Pirate Ghost Mystery". The Kevin Smith film Jay and Silent Bob Strike Back included a scene where Jay and Silent Bob are picked up in the Mystery Machine while hitchhiking and both they and Mystery, Inc. get "high" off of "dooby snacks". A plethora of other media properties have referenced or parodied Scooby-Doo, among them the TV Funhouse segment of NBC's Saturday Night Live , the online comic Sluggy Freelance, the FOX animated series Family Guy and The Simpsons, and the Cartoon Network programs Johnny Bravo, The Grim Adventures of Billy & Mandy, Harvey Birdman, Attorney at Law and The Venture Bros.

Assumed "adult themes"
As with many Saturday morning cartoons, Scooby-Doo is often proposed by sectors of the public to have hidden subtexts, in this case involving sex and drug use. Such assumptions often find their way into Scooby-Doo parodies done by comedians, musicians, and film/television producers.
Drug use is the most prominent of these charges, in particular because of Shaggy's beatnik origins. He and Scooby-Doo are shown to have voracious appetites, which has been interpreted as being evidence of a case of "the munchies" resulting from marijuana use. It is also believed that Shaggy and Scooby Doo's perpetual state of paranoia during mystery investigations, in contrast to the calm demeanor displayed by the other lead characters, is due to marijuana use. Some parodies go on to propose that the "Scooby Snacks" present in many episodes contain drugs instead of typical dog treat ingredients. The most direct references to the Scooby-Doo drug use theory were produced by Warner Bros. and Cartoon Network themselves. The first live action Scooby-Doo film makes several joking references to Shaggy and Scooby's purported drug use and even has Shaggy fall in love with a girl named "Mary Jane" (a common slang term for marijuana) and an early scene of smoke coming out of a vent in the roof of the van (but then showing it's just steam from their cooking), while an episode of the Adult Swim cartoon Harvey Birdman, Attorney at Law finds Shaggy and Scooby-Doo arrested for possession of marijuana.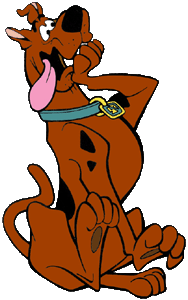 Also discussed and parodied are the presumed sexual activities going on among the Scooby-Doo characters. While working on the original series, Joe Ruby and Ken Spears often wrote their "straight men", Fred and Daphne, out of the episode so that they could focus on their "comedians": Shaggy, Scooby, and Velma. As a result, Fred and Daphne are missing from a significant amount of the action in most episodes, leading to assumptions that the two are off having sex instead of finding clues. Like the drug use, this assumed theme has also been self-parodied, with the "Bravo Dooby Doo" episode of Johnny Bravo, and both live-action and direct-to-video Scooby-Doo features making light of Fred and Daphne's presumed sexual relationship.
Another debated topic of the series centers around whether or not the tomboyish Velma is a lesbian. (Indeed, the character was based on the Dobie Gillis character Zelda, played by Sheila Kuehl – who later revealed her homosexuality.) The character has a considerable fan base among real-life lesbians, who see her as one of their own. The idea of Velma as a lesbian is parodied in the 2001 motion picture Jay and Silent Bob Strike Back, the "¡Viva los Muertos!" episode of The Venture Bros. (which featured a caricature of radical feminist and would-be Andy Warhol assassin Valerie Solanas as the Velma character), as well as both Scooby-Doo live-action films. Many, but not all, of the lesbian-themed gags from the first Scooby-Doo film, which center around a hinted crush Velma has on Daphne in the film, were excised from the final release print to secure a PG rating.

A 1968 Chevrolet Sportvan 108, painted to look like the Mystery Machine from Scooby-Doo. A number of Scooby fans have decorated vans in this fashion.
Merchandising
The first Scooby-Doo-related merchandise came in the form of Scooby-Doo, Where Are You! comic books by Gold Key Comics, which initially contained adaptations of episodes of the cartoon show when publication began in December 1969. The book soon moved to all-original stories, and continued publication until December 1974. Charlton published Scooby comics, many drawn by Bill Williams, from February 1975 to October 1975. Since then, Scooby-Doo comics have been published by Marvel Comics (written by Mark Evanier and drawn by Dan Spiegle), Archie Comics (reprints of the Charlton stories), and DC Comics, who continue to publish a monthly Scooby-Doo series.
Other early Scooby-Doo merchandise included a 1973 Milton Bradley board game, decorated lunch boxes, iron-on transfers, coloring books, story books, records, underwear, and other such goods. When Scrappy-Doo was introduced to the series in 1979, he, Scooby, and Shaggy became the sole foci of much of the merchandising, including a 1983 Milton-Bradley Scooby-Doo and Scrappy-Doo board game. The first Scooby-Doo video game appeared in arcades in 1986, and has been followed by a number of games for both home consoles and personal computers. Scooby-Doo multivitamins also debuted at this time, and have been manufactured by Bayer since 2001.
Scooby-Doo merchandising tapered off during the late 1980s and early 1990s, but increased after the series' revival on Cartoon Network in 1995. Today, all manner of Scooby-Doo-branded products are available for purchase, including Scooby-Doo breakfast cereal, plush toys, action figures, car decorations, and much more. Real "Scooby Snacks" dog treats are produced by Del Monte Pet Products. Hasbro has created a number of Scooby board games, including a Scooby-themed edition of the popular mystery board game Clue.
From 1990 to 2002, Shaggy and Scooby-Doo appeared as characters in the Funtastic World of Hanna-Barbera simulator ride at Universal Studios Florida. The ride was replaced in the early 2000s with a Jimmy Neutron attraction, and The Funtastic World of Hanna-Barbera instead became an attraction at several properties operated by Paramount Parks. Shaggy and Scooby-Doo are costumed characters at Universal Studios Florida, and can be seen driving the Mystery Machine around the park.

Source Wikipedia. All text is available under the terms of the GNU Free Documentation License.