Phineas and Ferb Characters and Friends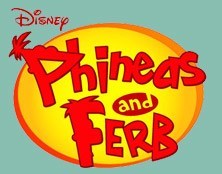 Find out more about the characters and the show and read all about your favorite characters from the Phineas and Ferb cartoon in this great character list.
You will find information about the Main and Major characters and see the Phineas and Ferb pictures to learn more about them, their names and other fun stuff!
Phineas and Ferb Main Characters
The following Phineas and Ferb characters appear in every espisode of the series.

Phineas Flynn
One of the show's titular characters, alongside his step-brother strives to make every day of summer excellent.
Phineas Flynn, also known as Dinner Bell by Buford, is a boy in the Flynn-Fletcher family. He is the son of Linda Flynn and stepson of Lawrence Fletcher. His sister is Candace, and his stepbrother is Ferb. He is friends with Buford, Baljeet, and Isabella, who has a strong crush on him (if he returns it is so far unknown, although, he was shown to enjoy Isabella kissing him). He has a strong bond with Perry, their pet platypus, and he always wonders where he is.
Phineas Flynn is always thinking up ways to squeeze more fun out of every summer day and helps Phineas stay entertained. Unfortunately, it also gets him into trouble with his sister Candace.
An incurable optimist, Phineas constantly looks on the brighter side of things. He is as well extremely smart, creative, and persistent, causing him to build immensely large inventions and activities with the help of his stepbrother. His hospitality often affects his plans.

Ferb Fletcher
The other titular character. He speaks very little, but is a master of engineering. Alongside his step-brother, he strives to make every day of summer vacation an adventure.
"Ferb" Fletcher is a British Fletcher child currently living in Danville. He is the stepson of Linda Flynn and son of Lawrence Fletcher. He speaks with a British accent. He has a stepsister named Candace, and a stepbrother named Phineas. He is friends with Buford, Baljeet, and Isabella. Also, Ferb has a crush on Vanessa. "Ferb" is short for something which has not yet been mentioned, with the exception of when Ferb was about to say, he got the Pizzazium, and said "Oh, here it is.".
Ferb is the brains behind Phineas' gadgets and contraptions. He builds the stuff that makes summer fun last longer and throws in a few choice words along the way, if he feels like it.
Ferb almost never speaks, but is not actually shy like one would assume. He is very courageous and clever. Quick thinking and on his feet about things, Ferb is a mechanical and technical genius, Ferb has built a plethora of things, from a roller coaster to a rocket to robots.

Candace Flynn
Older sister of the titular characters, her main role in the series consists of busting her brothers, though on several occasions she has instead focused on being a normal teenager or even helping her brothers in their Big Ideas. She is madly in love with Jeremy who recently became her boyfriend.
Candace Gertrude Flynn is the 15-year old sister of Phineas and Ferb, the eldest child of the Flynn-Fletcher household. Her day usually consists of attempting to get her brother and stepbrother in trouble with her mother, Linda Flynn, but by the time she arrives to see what they are doing, they always look perfectly innocent and normal. She is usually seen talking on her cell phone to Stacy Hirano, or less often Jenny and acts much like a stereotypical teenager when not trying to stop her brothers' antics. As the quirky older sister, Candace thinks it's her job to keep mom up to date on Phineas & Ferb's antics. Juggling her brothers and teenage life is difficult, but Candace is always finding new ways to make it work.

Perry the Platypus / Agent P
Pet of the titular characters, he is a secret agent under the guise of a mindless animal that foils the schemes of Dr. Doofenshmirtz. Also known as Agent P.
This pet platypus hides a secret life as crime- fighting agent p! Looking simple and innocent is just Perry's way of keeping his cover as he fights against Dr. Doofenshmirtz.
Perry the Platypus, codenamed Agent P, is Phineas and Ferb's pet platypus, who, unknown to his owners, lives a double life as a secret agent for the O.W.C.A. (The Organization Without a Cool Acronym) (a.k.a. "The Agency"), a government organization of animal spies. In the Agency, his immediate superior is Major Monogram.

Dr. Heinz Doofenshmirtz
Nemesis of Perry the Platypus, he often has plans to take over the Tri-State Area.
Always up to evil tricks, Dr. Doofenshmirtz is determined to cause all kinds of mayhem. His wacky schemes and contraptions keep agent p on his toes.
Dr. Heinz Doofenshmirtz, or Doof for short, is a mad scientist hailing from the country of Druelselstein. He is the head of Doofenshmirtz Evil Incorporated. He tends not to be evil in the traditional sense, but rather overly dramatic, eccentric and generally clueless. His usual lair is an office building that he apparently owns, though he's worked from other locations when necessary for his plans. He attempts to wreak generally "evil" havoc and assert his rule across "the entire Tri-State Area and the world!" Despite true dedication to this mission nearly all of his plans have been thwarted by his nemesis Perry the Platypus. (Doofenshmirtz has become so used to this foiling that he tends to feel empty or upset on the few occasions where Perry does not stand in his way.) Dr. Doofenshmirtz seems to quite enjoy musical numbers, and has performed songs about "impressing his professor" and how he hates his brother among other subjects. Though his plans are frequently clueless at best and his doctorate was purchased off the internet, some of his inventions (almost always suffixed with "-inator") have been fairly impressive. Online, Doofenshmirtz goes by the name of StrudelCutie4427.

Major Monogram
Agent P's boss at The Agency.
Major Francis Monogram or, as he likes to be known, simply Major Monogram (due to the fact that people often tease him about his first name) is Agent P's commanding officer, and gives him his mission in each day. Helping him transmit his daily messages and do general things around the Agency is his intern, Carl.
Other Phineas and Ferb Major Characters
The following Phineas and Ferb characters have appeared in several episodes often playing large parts.

Lawrence Fletcher
Father of the titular characters, has occasionally been informed of most of the boys activities or taken direct part in them but doesn't seem to mind much.
Lawrence Fletcher is Ferb's biological father, who married Phineas' mother, Linda, after falling in love with her at the farewell concert of Love Händel in the 90s. His interests pique to aspects of history, including ancient events, cultures, and artifacts.

Linda Flynn-Fletcher
Mother of the titular characters, is unaware of the boys' activities (although she finds out on some occasions, she is fine with it in those situations), despite Candace's attempts to reveal them since Linda always arrives too late.
Linda Flynn-Fletcher is the mother of Phineas Flynn and Candace Flynn, stepmother to Ferb Fletcher. She is married to Lawrence Fletcher. She is a regular American mother, although she used to be a one hit-wonder named Lindana, and now plays in a free form jazz band with Isabella's mother and Jeremy's mother . Her anniversary with Lawrence Fletcher is June 15th.

Isabella Garcia-Shapiro
Phineas and Ferb's close friend and neighbor, member and leader of the Fireside Girls; also has a crush on Phineas and has joined the boys in their plans more than any other.
With a simple, "whatcha doin?" Isabella gets pulled into all of Phineas' and Ferb's adventures. As the leader of the fireside girls, she uses her (and the troop's) resourcefulness to help the boys with their newest inventions.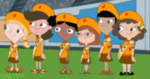 Fireside Girls, Troop 46231
The rest of Isabella's troop, they often help her and the boys in their daily plans. Names are (from left to right): Katie, Adyson, Holly, Gretchen, Ginger, and Milly.

Baljeet
Phineas and Ferb's Indian friend who helps the boys with many of their plans, enjoys math, is obsessed with good grades, and often loses his underwear.
Baljeet is Phineas' and Ferb's brilliant friend. He's happy to help the boys make their big ideas a reality, as long as he has time to study!

Buford Van Stomm
Phineas and Ferb's tormentor/friend and neighborhood bully, has joined them in several plans. He is often the reason why Baljeet is missing his underwear.
Buford is the stocky neighbourhood bully with a big attitude, small brain and short attention span. Phineas believes Buford bullies out of boredom so he distracts him by giving him fun things to do.

Jeremy Johnson
Candace's crush/boyfriend, works at Mr. Slushy Dawg and Mr. Slushy Burger, appears to have feelings for Candace just as she does for him.
Jeremy works at Mr. Slushy burger and is the object of can dace's affection. While he thinks Phineas and Ferb are pretty cool kids, he finds can dace's odd behaviour toward them part of her charm.

Stacy Hirano
Candace's best friend, often talks on the phone to her about her brothers or Jeremy.
As can dace's best friend and confidant, Stacy always knows what's hot and what's not. She reminds Candace they have better things (shopping and boys, hello.1) to do. Than see what Phineas and Ferb are up to.

Carl
Intern at the Agency that Agent P works at, good at disguises.
Carl Karl, nicknamed Dr. Coconut by Dr. Doofenshmirtz, is the hapless intern and cameraman of Major Monogram. He is an intern and is very loyal to Major Monogram. He works at the O.W.C.A. for college credit. He has been working at O.W.C.A for about 5 years.

Vanessa Doofenshmirtz
Heinz's daughter, like Candace, often tries to "bust" her father.
Vanessa tends to be sarcastic and generally acts like a normal teenager. She cares about her reputation, especially when her clothing gets switched with Candace's clothing. Vanessa has always be found with the "punk" or "goth" crowd.

Charlene Doofenshmirtz
Heinz's ex-wife, and mother of Vanessa, her relationship with her ex-husband appears to be on good terms as evidenced by the fact that she kept the last name of Doofenshmirtz after the divorce.
Charlene Doofenshmirtz is the ex-wife of Dr. Heinz Doofenshmirtz and shares custody of their daughter, Vanessa. She didn't divorce Heinz because he was evil; in her words, they just didn't get along very well and wanted different things. Whenever Vanessa tries to tell her that Heinz is actually evil, Charlene is adamant that no one can be evil. In contrast to Heinz's obvious agitation with her, she is actually very civil in his presence and talks of and to him as if they were still on relatively good terms.

Norm
A robot built by Doofenshmirtz originally built to eliminate Perry the Platypus. Norm is an oversized humanoid robot that Heinz Doofenshmirtz used to try to destroy Perry the Platypus.