Phineas And Ferb - We Wish You A Merry Christmas Lyrics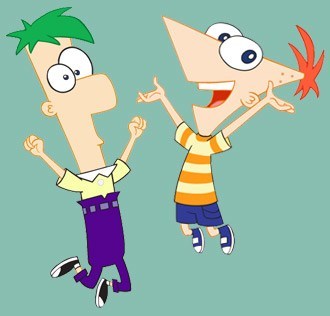 We wish you a merry Christmas
We wish you a merry Christmas
We wish you a merry Christmas
And a happy new year


Phineas: We wish you the best day ever
And hope all your Christmas endeavours
Are super-fun, amazing, and clever
And that your New Year's rocks, too!


Isabella: Oh, come tell me what'cha doin'
All my relatives just flew in
From Mexico and Jerusalem
For the holidays


Both Christmas trees and menorahs
It can be confusing for us
When we break into a chorus
Of "olé" (Olé! ) and "oy vey" (Oy vey! )


Major Monogram: Good missions I'll give
To Agents A through Z
Carl, get away from that punch bowl
I'm saving that for me
Carl: Sorry, sir...

We wish you a Perry Christmas
We wish you a Perry Christmas
We wish you a Perry Christmas
And a (Perry chitters) new year


Baljeet: I wish for a calculator-
Slash-Hindi-English translator
To find a common denominator
In both of my tongues


Buford: Good wedgies I'll give
To all of you nerds
That's how I say "Merry Christmas"
I ain't good with words


Dr. Doofenshmirtz: I wish you would let me rule you
In evil I'm going to school you
I won't sugar-coat or fool you
Your New Year's looks grim


I warn you, my new -inator
Will force you to serve me later
So why not just choose to cater
To my every whim?


All: We wish your every endeavour
Makes this the best Christmas ever
And we're all so glad that we will never
Mention figgy pudding...
Dr. Doofenshmirtz: Oh, great. Well now we've mentioned it.
Major Monogram: You know, no one would have noticed if you'd have just kept your mouth shut