Batman characters | Harley Quinn

Harlene Quinzelle was a brilliant and successful criminal psychiatrist. After encountering the criminal mastermind, The Joker, at Arkham Asylum, Harlene develops a fascination with the madman's maniacal psyche. She begins to treat him, only to find herself completely under The Joker's control. Unable to break his hold on her, Harley enters a world of crime as The Joker's criminal accomplice and lover, Harley Quinn.
Harley quickly becomes one of the Dark Knight's deadliest enemies, as she carries out The Joker's every evil whim. She develops a villainous friendship with Poison Ivy and the two become sisters-in-crime by virtue of their shared hatred for male domination in the criminal underworld.

| | |
| --- | --- |
| | Although her true personality has been subjugated by The Joker, beneath it all Harley remains a sweet lovable person. Upon her arrest, she is deemed mentally unbalanced and sent to Arkham Asylum - not as the brilliant doctor she once was, but as one of Gotham's criminally insane on the other side of the padded cell. |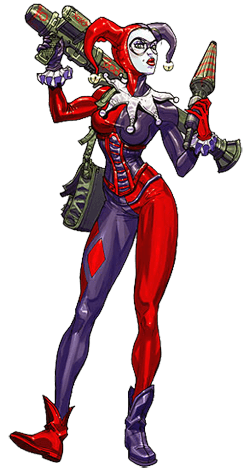 One time, the Joker grew tired of Quinn, and he sent her off on a rocket. She crash landed in Robinson Park in the center of Gotham and was found by Poison Ivy. When Harley regains consciousness, Ivy initially plans to kill her. The prospect of her own death totally fails to move Harley, and Ivy is curious as to why. She convinces Harley to tell her story, and comes to feel a kinship with Harley. Considering her another castoff, Ivy offers to help Harley take her revenge on both Batman and the Joker. Ivy took her back to her lair in a toxic waste dump and nursed her back to health. This included injecting Harley with a serum that Ivy had developed which has given Harley that immunizes her to various assorted toxins and Ivy's own poisonous touch and also dramatically enhances Harley's strength and speed. Ivy intends this to give her new friend an edge on Batman and the Joker. Quinn and Ivy teamed up and conducted a number of successful capers. Hot-blooded Harley, however, is angrier at the Joker than at Batman, and even initially works with the Dark Knight to help bring down the Clown Prince of Crime.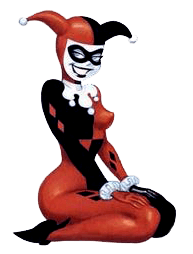 << Back to the batman characters