Batman history
A family outing to the cinema ended in tragedy for young Bruce Wayne. Walking homeward, Bruce, his father, Thomas, and mother, Martha, accidentally ventured into Gotham City's notorious "Crime Alley" and were accosted by a mugger. Not content merely to rob the wealthy family, the hoodlum - whose identity was "never determined" - shot Dr. Thomas and Martha Wayne dead before fleeing into the darkness. As he knelt beside his parent's bodies, Bruce swore to avenge them.
| | |
| --- | --- |
| After the police arrived, Bruce was comforted by Dr. Leslie THompkins. Dr. Thompkins and Alfred Pennyworth helped arrange matters so that Gotham's Social Services would not take Bruce into care. In this way, both Dr. Thompkins and Alfred enabled Bruce to realize his dream of becoming a crusader against crime. | |
The Young Bruce Wayne
At age 14, Bruce embarked on a journey that took him to every continent as he sought to learn all the skills he would need to keep his vow. He studied criminology, forensics, and criminal psychology, and learned from manhunters and martial artists, mastering every fighting style. In time, Bruce forged himself into a living weapon to wage war on crime and injustice. On his return to Gotham, Bruce stalked street thugs as a plainclothes vigilante. Beaten by the very people he intended to protect, he barely survived his first night out. As he sat bleeding in his study at Wayne Manor Bruce knew that he had to first strike fear in the hearts of his foes. Just then, a bat crashed through the study window, giving Bruce the inspiration he needed.


Batman Begins
Establishing a secret headquarters in the caves beneath his mansion, Bruce became Batman, a Dark Knight to protect Gotham and its citizens from vice and villainy. Alfred Pennyworth remained his confidant, tending to injuries and offering sage advice - whether requested or not!

Batman became an urban legend, a cautionary tale that sent shivers through the city's underworld. This Caped Crusader found a friend in Captain James Gordon a Gotham cop who didn't approve of Batman's methods, but appreciated the results of his nightly crime fighting. Batman's Rogues Gallery grew to include a host of bizarre criminals, such as the Joker, Catwoman, Two-Face and the Penguin. As his enemies increased, help arrived in the form of another young boy left parentless by brutal crime.
Batman Comic history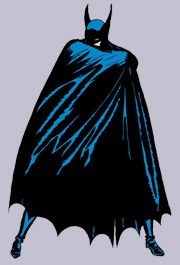 Batman is a comic book superhero that was co-created by Bob Kane and Bill Finger in 1939. He is also known as "the Caped Crusader", "the Dark Knight", "the World's Greatest Detective" or simply "the Bat". The character was incepted by Detective Comics, the creator of the popular Superman. Batman does not have any superpowers; rather he makes use of his intellect, detective skills, science and technology, wealth, physical prowess and intimidation to fight his war of crime. Soon after his introduction, Batman became a popular character and also gained his own comic book, titled "Batman". With time, 'Robin' also came into being. Read on further to know more interesting and amazing information on the history, origin and background of Batman.

Interesting & Amazing Information On Origin & Background Of Batman

With the phenomenal success of Superman, in the year 1938, Vin Sullivan - the publisher of Detective Comics (DC) - thought of creating another superhero for his series. Soon after, Artist Bob Kane set to work and came up with Batman, which eventually turned up to be one of the most popular superhero characters in the American history. The character was a combination of different people and things. The look and feel of Batman was influenced by the drawings of Da Vinci, the persona of Zorro, the style of 1930s horror films and the movie 'The Bat'. He was given a dark, moody look.

Kane took his drawings to writer Bill Finger (a major force in Batman's creation, though often uncredited). Kane and Finger then worked upon and wrote some stories for the character, which were appreciated and accepted by Sullivan. Finally, in May 1939, Batman made his debut in Detective Comics #27, which was a six-page story. It turned out to be an immediate hit. The origin of Batman was fully fleshed out in Detective Comic #33, in November 1939. The story told about a boy, Bruce Wayne, who had seen his parents being murdered and set out to avenge them. This series grew Batman's popularity. In the spring of 1940, a full fledged comic was out, titled 'Batman'.

The spring of 1940 also saw the first appearance of a supporting character for Batman, named Robin, in Detective Comic #38. This character lighted up the series and added weight among the young readers. Batman is known to have more villains than any other superhero and forms one of the most popular and important pieces in Batman comics. Its first issue presented the most popular The Joker and The Cat (who later became Catwoman). The year 1941 saw a cartoon version of the Penguin and in 1942, Two Face appeared to steal the scene. Batman's popularity grew in full swing in the early 1940s and he became the star of his own newspaper strip.

In 1943, Batman appeared on the silver screen in 15-part serial 'Batman', with Vicki played his girlfriend until 1963. Batman appeared on radio in the late 1940s, as a guest star on Superman's program. This was the first time that two superheroes worked together. Both appeared in comics for the first time in Superman #76, in 1952. On January 12, 1966, Batman started appearing on television with Adam West playing Batman. The show played became an immediate smash success. While the show ran for 26 months, before fading out in 1968, Batman comic book sales boomed alongside. The 1970s saw a decline in the comic book sales and Batman disappeared from the television also.

Come 1986 and writer-artist Frank Miller created a limited miniseries titled 'Batman: The Dark Knight Returns', raising Batman's popularity again. The 1989-hit movie 'Batman', directed by Tim Burton, reignited interest in the character. It was first one of the four live action Batman movies. In 1992, 'Batman: The Animated Series' came up on television. The character was given a very stylish and very moody look. It featured all the old villains, apart from some new faces. In 1993, Batman appeared on the silver screen in the animated spin-off film 'Batman: Mask of the Phantasm', which was followed by 'The New Batman Adventures', 'Batman Beyond', and 'Justice League'. In 2005, Christian Bale-starred 'Batman Begins' was released; it directed by Christopher Nolan. Its sequel 'The Dark Knight', released in 2008, became the highest grossing movie in the opening weekend of all time in the US, earning $158 million.