Batman characters | The Joker
Next to nothing is known about Batman's greatest enemy, except that he operated as an enforcer/hitman for various crime bosses before becoming the "Clown Prince of Crime." The Joker first encountered Batman during a botched robbery at the Ace Chemical Factory. He escaped by leaping into a drainage vat of chemical waste, but later discovered the toxins bleached his skin chalk white, dyed his hair fluorescent green, and stretched his lips into a hideous, permanent red grin. It's not hard to understand why such a transformation snapped his already unstable mind.
The Joker's methods are simple: gain pleasure in breaking every law and moral stature known to man. More importantly, he makes the crime funnier by playing a game of cat and mouse with Batman. Joker views every crime, infliction of pain, and murder as the ultimate joke -- mocking Batman. Joker's trademarks are his razor sharp playing cards and the laughing gas Smilex, a chemical that infects his victims with the same ghastly grin as his own.
| | |
| --- | --- |
| | Extremely intelligent despite his lunacy, the Joker often accesses information within Gotham City that should only be available to government officials and the police. His only real motive is bringing Batman as close to the edge as possible. Joker strives to outdo Gotham's other villains as well, for if they have the honor of doing Batman in then he has no purpose. To The Joker Gotham is merely a stage on which he performs. |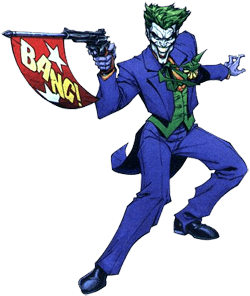 The Joker is a supervillain and the archenemy of Batman. He was first introduced in Batman #1 (Spring 1940) and has remained consistently popular. The Joker is a master criminal with a clown-like appearance. Initially portrayed as a violent sociopath who murders people for his own amusement, the Joker later in the 1940s began to be written as a goofy trickster-thief. That characterization continued through the late-1950s and 1960s before the character became again depicted as a vicious, calculating and psychopathic killer. The Joker has been responsible for numerous tragedies in Batman's life, including the paralysis of Barbara Gordon (Batgirl/Oracle) and the murders of Jason Todd (the second Robin) and Jim Gordon's second wife Sarah Essen.
Interpretations of the Joker in other media include Cesar Romero's in the 1960s Batman television series, Jack Nicholson's in Tim Burton's Batman, and Mark Hamill's in Batman: The Animated Series and other DC Animated Universe shows. Wizard magazine listed him the #1 villian of all time in 2006. As played by Nicholson, The Joker ranks #45 in the American Film Institute's list of the top 50 film villains of all time. Heath Ledger signed to play the Joker in July 2006, for director Christopher Nolan's Batman Begins sequel, The Dark Knight and won a posthumous Oscar for his performance. He was also achieved the rank of the 8th Greatest Comic Book Character of All Time list, which was released by Empire (noteably being the highest ranked villain character on the list), as well as being the fifth Greatest Comic Book Character Ever in Wizard Magazine's 200 Greatest Comic Book Characters of all Time list, once again being the highest ranked villain on the list.

The Jokers Powers and abilities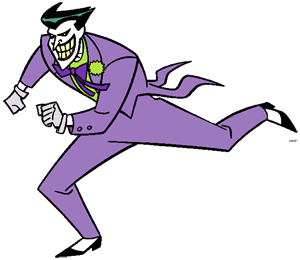 The Joker commits crimes with countless "comedic" weapons (such as razor-sharp playing cards, acid flowers, cyanide pies and lethal electric joy buzzers) and Joker Venom, a deadly poison that infects his victims with a ghoulish rictus grin as they die while laughing uncontrollably. This venom comes in many forms, from gas to darts to liquid poison, and has been his primary calling card from his first appearance till the present; he is immune to it. The Joker is also very skilled in the fields of chemistry, genetics, and nuclear engineering. In a miniseries featuring Tim Drake, the third Robin, he kidnaps a computer genius, admitting that he doesn't know much about computers. In future issues, he is shown as very computer literate.
The Joker has moderate skill in hand to hand combat. Over the years it has been shown that although Batman is stronger, the Joker is faster and more agile. The Joker has been known to be able to hold his own in hand-to-hand combat against Batman, however every time he is subdued by Batman, it is through physical force. However, the Joker has proven to be very skilled in the area of martial arts as well, this being proven when beating the batman once in a fight without "cheating". However, this skill in fighting can also be questioned, due to different artists having different reincarnations of the Joker. In some cases, he is so weak, that Batman can take him down with a single punch, whilst in other cases, he has proven to be more than a match for the Dark Knight.
The Joker has cheated death numerous times, even in seemingly inescapable and lethal situations. Though he has been seen caught in explosions, been shot repeatedly, dropped from heights, electrocuted, etc, the Joker always manages to return fully alive and unscathed to wreak havoc again.
Over several decades there have been a variety of depictions and possibilities regarding the Joker's apparent insanity, of which the following are a sampling:
Grant Morrison's graphic novel Arkham Asylum suggests that the Joker's mental state is in fact a previously unprecedented form of "super-sanity," a form of ultra-sensory perception. It also suggests that he has no true personality of his own, that on any given day he can be a harmless clown or a vicious killer, depending on which would benefit him the most (thus explaining the two very different interpretations of the character that have developed over the decades; see below). Later, during the Knightfall saga, after Scarecrow, Cornelius Stirk, and the Joker team up and kidnap the mayor of Gotham City, Scarecrow turns on the Joker and uses his fear gas to see what Joker is afraid of. To Scarecrow's surprise, the gas has no effect on Joker, who in turn beats him with a chair. In Morrison's JLA title, the Martian Manhunter rewires his own brain in order to think like the Joker, and later briefly rewires the Joker's brain to create momentary sanity. In those few moments, the Joker realizes that he had to reevaluate his life and seemed to regret his various murders. He is returned to his usual self soon afterward.
Various DC Comics Who's Who publications state that due to his level of insanity, at times the Joker manifests a degree of superhuman strength. In an alternate depiction of the Joker called Elseworlds: Distant Fires, the Joker is rendered sane by a nuclear war that deprives all super beings of their powers. In Batman: Legends of the Dark Knight #145, the Joker became sane when Batman put him in one of Ra's al Ghul's Lazarus Pits after being shot, a reversal of the insanity which may come after experiencing such rejuvenation. However, the sanity, like the more commonplace insanity, was only temporary, and soon the Joker was back to his normal self. It is to be noted that during the brief moments of sanity, Joker expresses regret for all the sins and crimes that he has committed and has begged for forgiveness.
The character is sometimes portrayed as having a heightened sense of self-awareness that other characters do not, such as being aware of being in a comic book. This fourth wall awareness also seems to carry over to Batman: The Animated Series. The Joker is the only character to talk directly into the "camera" (such as in Joker's Wild, where he says "Don't try this at home, kids!" before lassowing a passing truck and using it to swing him over the fence of Arkham Asylum), and can be heard whistling his own theme music in the episode adaptation of the comic Mad Love. In the Marvel vs DC crossover, he also demonstrates knowledge of the first Batman/Spider-Man crossover even though that story's events did not occur in the canonical history of either the Marvel or DC universe.

<< Back to the batman characters