Pokemon characters
Ash Ketchum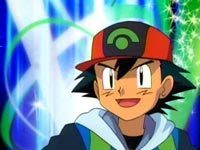 At the beginning of the series, Ash Ketchum was 10 years old, and later, in the episode "The Battle Of The Badge", Ash said that it was a whole year since he and Pikachu had visited Viridian City, making him 11. Furthermore, in the short called "Pikachu & Pichu" which was attached to Pokemon 3: The Movie, he said the day when the events depicted in the short took place was the anniversary of the day he met Pikachu, meaning his age at that time would be at least 12. However, two seasons later, Pokeani reported that Ash was the same age as May, who was 10 years old at the time. This and the fact that the two are at the same height suggests that both of the characters are the same age.
His mother, Delia Ketchum, is a very dedicated, loving, somewhat humorous, and caring mother. This is shown throughout the first season, as she always asks Ash if he has changed his underwear. She keeps a Mr. Mime in their home in Pallet Town to help her in doing household chores. His father's identity is unknown throughout the storyline. One reference to this missing character was in the second episode of the first series. In this episode, after Ash reached the Pokemon Center, his mother called him on the videophone and informed him that his father had taken four days to reach the same place, when Ash had taken only one.
As his journey goes on, he acquires many friends, such as Misty and Brock throughout the Kanto region and Johto, Misty and Tracey throughout the Orange Islands, Brock, May, and Max throughout the Hoenn region and the Battle Frontier saga, and recently at the Sinnoh region, Brock and Dawn. He also has formed friendships and friendly rivalries with Richie who defeated him in the Kanto tournament, and in many ways, is his his mirror image, Casey whom he meets occasionally in Johto and Kanto, Aya the sister of Gym Leader Koga, and Harrison who beat him in the Silver Conference quarterfinals and was defeated by another trainer.
While gaining friends he also meets, and makes, rivals. One of them is Gary Oak, Professor Oak's grandson, to whom he has a friendly rivalry in the entire Kanto saga. After Ash finished a round ahead of him in the Kanto tournament, their rivalry cooled down. Later, Gary decided to become his grandfather's successor as the Pokemon Professor. Recently, in Sinnoh, he began having a new rivalry with Paul, an arrogant Pokemon trainer who rejects weak Pokemon.
When he was 10, he started his Pokemon journey. Through unusual circumstances, he acquired a Pikachu from Professor Oak, the leading Pokemon authority, as his starter Pokemon instead of a Bulbasaur, Charmander, or Squirtle. He acquires them later through his journey in the Kanto region, though. Soon, he meets Misty, not knowing she is the Cerulean Gym Leader, just as he and Pikachu were being chased by a flock of Spearow. Pikachu destroyed the bike they stole from Misty in order to get Pikachu to the Pokemon Center for medical help, and this became an excuse for Misty to stay with Ash. Soon, he battled Brock for the Boulder Badge, which, in their rematch, he won through an unusual way. Brock then left the Gym to join him and try to become the best Pokemon Breeder. The original trio went through the Kanto region to overcome Team Rocket, a criminal syndicate aiming to gain universal power through heinous crimes to gain Pokemon, particularly Jessie, James, and Meowth, who are trying to steal Ash's Pikachu, and gain Gym Badges in order to participate in the Kanto league.
After Ash was defeated, Prof. Oak sent them to the Orange Islands to get the GS Ball, an unusual Poké Ball that can't be opened, from Professor Ivy. After gaining the Poké Ball, Brock decided to stay with Professor Ivy to aid her in their Pokemon breeding and research. Just then, Tracey appeared and, after hearing Ash is a friend of Prof. Oak, decided to accompany them through the Orange Islands, while Ash battled Gym Leaders and eventually, became the Orange League Champion. So far, this is the only Pokemon League that he won.
After returning to Pallet Town, Ash is challenged by Gary to a battle. Ash, as usual, chose Pikachu, and Gary chose Eevee. After a fierce battle Gary beat Ash, and told Ash that he was heading to the Johto region. Ash decided to follow Gary to Johto. There, he, as usual, showed his competitive side, battling Gym Leaders and beating them all for Gym Badges. Also, he acquired new Pokemon there, like Chikorita (later evolved into Bayleef), Cyndaquil, Totodile and a shiny Noctowl. After the gym in Cianwood City he joined the Whirl Cup in the Whirl Islands. This tournament was strictly water types, and he lost to Misty. He then went on to get to the Top 8 in the Silver Conference.
Never stopping for expeditions and new adventures, Ash then went to the Hoenn region. Now, he is accompanied by May and Max, the children of Norman, a Gym Leader in the area. Soon, Brock catches up with Ash and joins them. Though Misty occasionally appears, she is now staying in the Cerulean Gym, due to her sisters going on a cruise. This time around, the Pokemon Contests, a way to elegantly show off one's Pokemon with beauty rather than power, became more significant, as May wants to become a great Pokemon Contest participant. Still, Ash earns his way to the Hoenn league, where he is eventually defeated in the quarterfinals.
Soon, the group meets with Scott, and invites them to come to the Battle Frontier, a special place of tough and unique Pokemon battling only for exclusively chosen Pokemon trainer's. Ash then defeated Greta, Tucker, Noland, Spencer, Lucy, Anabell and Brandon, earning all the Symbols of the Battle Frontier. Then, he was offered a place in the area as a Frontier Brain, but he refused.
Then, Ash went to the Sinnoh region. This time, May has left to Johto to participate in the contests there, and Max has gone home to Petalburg with his parents. Ash lost his Pikachu to Team Rocket, which lost Pikachu in the wild. Then, Dawn, a new Pokemon trainer and a major female character, sees Pikachu and takes care of it. Ash then meets Dawn, her Piplup, and his Pikachu and they are happily reunited. Then, Brock catches up with him once again and Dawn, an aspiring Pokemon Coordinator, joins them. Brock also later joins. Now they are touring the entire region, looking for tough competition and new discoveries.

Pikachu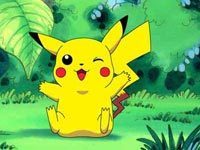 Pikachu is the series' main Pokemon and also serves as the Pokemon series' mascot. Pikachu is a little, yellow, mouse-like creature with a lightning bolt tail and the ability to create an electrical jolt from its cheeks. It is the Pokemon that Ash receives from Professor Oak to start his journey, and stays with Ash for the entirety of the Pokemon anime. Other Pikachu appear elsewhere, though.


Gary Oak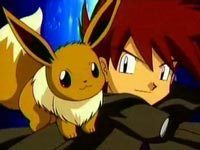 Ash Ketchum's rival. Ash first fought Gary in Pallet Town. Ash's Pikachu fought against Gary's Eevee. Throughout most of the series he appears randomly, usually being crowded by mobs of people. Much of what Ash does is at least somewhat influenced by Gary, such as the regions he visits. After the Johto story arc, Gary decides to become a Pokemon researcher like his grandfather, Professor Oak.

May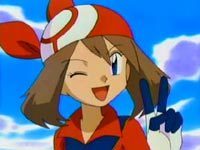 May is a girl who accompanies Ash Ketchum on his Pokemon journey starting in the Hoenn Arc of the story. She gets her first Pokemon, Torchic, from Professor Birch, the lead professor of Pokemon in Hoenn. She is 10 years old by the first episode. She and her brother, Max, traveled with Ash throughout both the Hoenn and Battle Frontier Arcs. After the Battle Frontier arc she left with one of her fellow co-ordinators for Johto to compete in Pokemon contests there.

Misty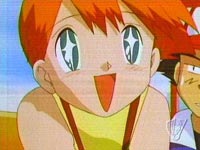 Misty is not the type of person you would want to mess with. She has a deep passion for marine Pokemon, and her goal is to be the world's greatest Water-type trainer. As she got older she became interested in Pokemon and eventually left her hometown of Cerulean City to begin her quest.
Misty met Ash Ketchum while fishing for Pokemon in the outskirts of Pallet Town. They had a rocky friendship at first due to the only reason Ash met her was because he stole her bike to get Pikachu emergency help. He eventually broke the bike while going downhill, yet when she saw the reason he was in a hurry she grew very fond of him. Their adventures led them through the Indigo, Orange, and Johto leagues. She also traveled with a Togepi, who considered her as its mother. After the Johto leagues she parted ways with Ash and Brock to take over the Cerulean City Gym after her older sisters decided to go on a cruise. Ash and company met up with her again in the Battle Fronteir Arc, though.


Dawn
Dawn is 10 and she likes performing in contests.





Max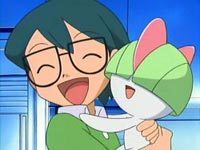 Max is May's brother. He likes Pokemon more then anyone else on the series. He is 9 years old. Despite Max's young age, Brock once said about Max, "His brain is filled with more knowledge than all my years working with Pokemon". Max told Ash that when he is 10 he will battle him.

Brock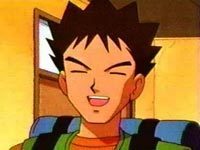 Brock travels with Ash Ketchum and his friends during the Kanto, Johto, Hoenn, Battle Frontier, and the current Sinnoh story arcs. His dream is to become the world's best Pokemon Breeder. He was 15 at debut (possibly up to 20 by now). He originally was the Pewter City gym leader, but when Ash defeated him, he decided to travel with him. At the end of most of Ash's gym journeys, the entire crew splits up, but like all the seasons before, he comes back to join the crew, and possibly meet pretty girls. At first he only trained rock types, but he got a fire type, Vulpix, and now trains all types of Pokemon. He has absolutely no luck in getting any females to date him. He is most often seen in the anime being dragged by his ear from a Nurse Joy, Officer Jenny, another pretty female by Max, and originally, Misty and more recently, being hit with a small Poison Jab by Croakgunk.
Tracey Sketchit
Tracey Sketchit is a character who loves to draw and take photographs. At first, he joins Ash and Misty in the Orange Islands. When they returned from the journey, Tracey decides to be Professor Oak's assistant. He's usually up in the various regions taking pictures of Pokemon, to help Professor Oak.


Jessie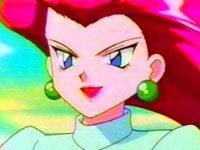 Jesse is a member of Team Rocket, along with her partners Meowth and James. She is also another of the anime's main antagonists. She isn't really the "brains" of their group, although she usually makes the plans. She is a bossy type of person, and is often seen with her head grown to twice the normal size, anime-style, and yelling at someone. She is also a coordinator. Her mother is Miyamoto. She was a high-ranked Team Rocket member. Miyamoto was searching for Mew. Tragically, while searching in the icy mountains, an avalanche supposedly killed her. The entire aftermath of said avalanche is unknown.
James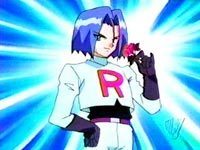 James is a member of Team Rocket, an organized criminal syndicate dedicated to stealing and using other people's Pokemon for bad things, and one of the anime's main antagonists. He is usually seen with his partners Jessie and Meowth, also of Team Rocket. He was brought up in a rich family, and supposedly joined Team Rocket because he would have to marry a girl he didn't like if he stayed at his home. In all, he is a kind soul who mostly reluctantly gos along with Jessie and Meowth. In one of the early series he returns to his home, and throughout the episode he has flashbacks of him playing peacefully with Pokemon. James' efforts, along with Jessie and Meowth, to capture Ash's Pikachu and have failed every time.